Miguel Brown, M.S. Ed, LMFT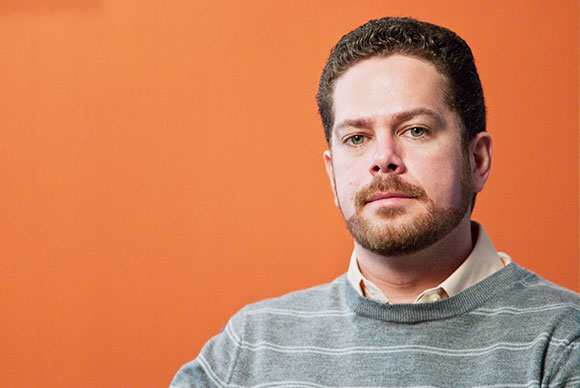 I have been part of the South Florida community for over 19 years. I received a Masters in Marriage and Family Therapy from the University of Miami and have been working with both English and Spanish speaking teenagers and their families for 10 years. I have always had a gift for connecting with teenagers and as a local South Floridian I can relate to them. I provide a sanctuary for teenagers and families who are ready to start making positive changes in their lives.
I was born to an English father and Venezuelan mother in Valencia, Venezuela. When I was 8 years old my family moved to Florida. When I was 13 we moved to Santiago, Chile. When I was 16 we moved back to Florida and I have lived here ever since. Thanks to my diverse background I have spoken English and Spanish fluently my whole life and have always been curious about why people are the way they are. The English are very different from the Venezuelans! This led me to study psychology and eventually go on to obtain a Master's degree in Marriage and Family Therapy from the University of Miami.
Since the beginning of my studies I enjoyed working with teenagers. I have always been able to connect with them and always got a lot out of my time with them. Over the years I have had the opportunity to work with teenagers in several different ways; as a case manager, teacher, behavior technician, registered intern and now as a Licensed Marriage and Family Therapist. Once I became a registered MFT intern, I knew I had found my calling. Now I see the positive impact I make as a Psychotherapist and LMFT through my patient's results. It's a profession perfectly suited to me.
I love what I do and I look forward to meeting you and your family.
Miguel Brown's Credentials
EDUCATION
Florida Psychoanalytic Institute, Miami, Florida, U.S.A.
Psychodynamic Psychotherapy Course Certification, expected Fall 2013
University of Miami, Miami, Florida, U.S.A.
Masters of Science In Education. in Marriage and Family Therapy
Florida State University, Tallahassee, Florida, U.S.A.
Bachelor of Arts and Sciences in Psychology, 2005
Minor in French
CLINICAL EXPERIENCE
"El Centro" Center of Excellence for Hispanic Health Disparities Research, University of Miami, Miami, FL
Supervisor: Dr. Daniel Santisteban
Practicum Outplacement May 2011 – May 2012
Conducted individual therapy in English and Spanish for 11-15 year old Hispanic study participants as part of the control group for a drug prevention study
Conducted didactic drug group therapy in English and Spanish for 14-17 year old Hispanic study participants as part of the control group for a drug treatment efficacy study
Institute for Individual and Family Counseling, University of Miami, Miami, FL
Supervisor: Dr. Cassaundra Wimes
Staff Therapist University Practicum May 2011 – May 2012
Conducted individual and family therapy for a variety of clients in English and Spanish
Attended regular "in-service" training workshops
Henderson Mental Health Center, Family Resource Team, Fort Lauderdale, FL
Supervisor: Lauren Zuchman LMHC
Family Resource Coordinator, September 2005 – September 2006
Working with Families on wide variety of issues
Experience working with clients with various diagnosis
Coordinating services and overall plan development and implementation
Heavy experience with domestic violence
Henderson Mental Health Center, Alternative to Residential Treatment Team, Fort Lauderdale, FL
Supervisor: Lauren Zuchman LMHC
Behavior Technician/Youth Case Manager, September 2006 – December 2006 and May 2008 – June 2009
Using basic behavioral techniques to increase desirable behavior and decrease undesirable behavior in severely impaired adolescents
Coordinating services and overall plan development and implementation
Heavy experience with treatment teams involving counselors, psychiatrists, school professionals and families
Eckerd Youth Alternatives, Camp E-Tu-Makee, Clewiston, FL
Supervisor: Patrick Girdner MA
Outdoor youth counselor, September 2007 – May 2008
Contact with juvenile offenders and foster care children 24 hours a day 5 days a week in a wilderness program environment in the Florida Everglades
Leading a mixed group of juvenile delinquents and foster care children with DSM diagnosis through structured daily activities including school work and group therapy
Conducting problem solving sessions to confront maladaptive behavior when it occurs
Boys and Girls Club of the Bid Bend, Tallahassee, FL
Teacher, September 2002 – May 2005
GRADUATE LEVEL RESEARCH EXPERIENCE
"El Centro" Center of Excellence for Hispanic Health Disparities Research, University of Miami, Miami, FL
PI: Daniel Santisteban, PhD
Graduate Assistantship/Study Coordinator, May 2010 – May 2012
The purpose of this research is to test the effectiveness of Culturally Informed Flexible Family Therapy for Adolescents (CIFFTA) compared to treatment as usual
Conducted screening, baseline, and follow up assessments with Hispanic adolescents and their caregivers
Analyzed data using SPSS for monitoring, adherence, and research purposes
Coordination responsibilities for study: Culturally Informed and Flexible Family based Treatment for – Adolescents (CIFFTA): A Randomize Trail, which tests the efficacy of CIFFTA compared to traditional structural family therapy
The Miami Prenatal Cocaine Study, University of Miami, Miami, FL
PI: Emmalee Banstra MD
Graduate Assistantship, June 2009 – May 2010
The purpose of this longitudinal study is to investigate the effects of prenatal cocaine exposure in an African-American cohort of approximately 400
Conducted psycho-social interviews with the adolescent participants
Guided participants through the "TRIER" social stress test
Administered computerized psychological measures
Quality assured caregiver psycho-social interviews
Trained new staff to enter data and quality assure psycho-social interview
PRESENTATIONS AND PUBLICATIONS
Co-author and Co-presenter: "A scientist-practitioner model applied to a multicultural training program for multilingual therapists in a global society" Presentation at the National Latino/a Psychological Association's 2010 annual conference in San Antonio, Texas
Co-author: "Bridging Science and Practice: Facilitators and Barriers to This Important Work" Presentation at the 2010 Robert Wood Johnson's New Connections Symposium at Princeton University, New Jersey